Terrier Conan, aged 7, ended up behind bars and according to his owner the dog is a repeat offender.
"He is incredibly fond of food in general and sweets in particular. He has run off a few times before, and he always heads for food stores," owner Liss-Hege Jeremiassen told Adresseavisen.
Conan sneaked out the door Wednesday night and headed straight for only place open, a nearby Statoil station. The cameras picked him up sniffing around the candy shelves, poking his nose into the containers of sweets sold by loose weight, and snubbing all of these treats in search of his personal favorite, chocolate covered rice crisp. Here he stopped and devoured the contents of the container.
"When he was finished he let out this enormous burp," said Elisabeth Roel, who had the night shift at the station.
She tried to chase Conan out but the dog growled at this attempt to interrupt his chocolate raid. Roel then called the police, who turned the job over to Falken security.
"He's really a nice dog, but he doesn't have looks on his side. He spent the night next to a pit bull, but that went well. He's calm and friendly," said security guard Otto Olsen, who apprehended the hound.
Roel said she wouldn't have been worried if she had recognized Conan, but since he had escaped without his collar, she wasn't sure and wasn't about to take chances.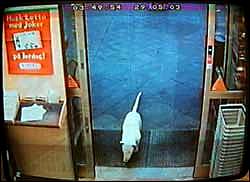 Conan arrives around dawn, looking for something to satisfy his habit.
PHOTO: Adresseavisen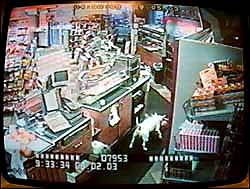 Conan makes a thorough search - he won't settle for just anything.
PHOTO: Adresseavisen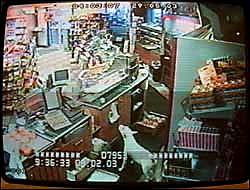 Is that the chocolate covered rice crisp?
PHOTO: Adresseavisen